Top 5 Free Video Editing Software For Windows / Linux / Mac
Here I am going to share some awesome free Video Editing Tools for your Windows / Linux / Mac Operating System, Which help you to create video portfolio for your project of you can also create awesome project demo and animated cartoon films using following free Video editing tools, If you are Youtuber you can also create record your video from your phone and can edit using these free tools and upload on youtube.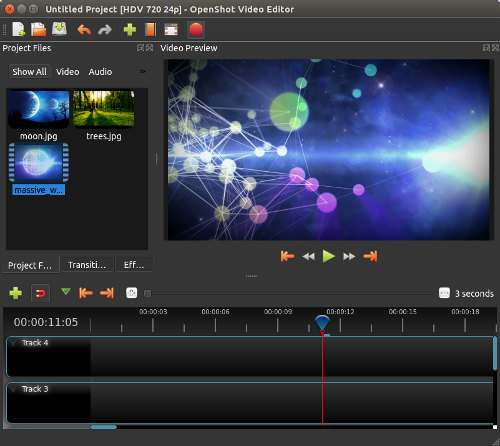 Top 5 Free Video Editing Software For Windows / Linux / Mac
1. OpenShot – (Windows, Linux, Mac)
OpenShot Video Editor to be an easy to use, quick to learn, and surprisingly powerful video editor. Take a quick look at some of our most popular features and capabilities.
Features:
* OpenShot is a cross-platform video editor, with support for Linux, Mac, and Windows. Get started and download our installer today.
* Add as many layers as you need for watermarks, background videos, audio tracks, and more.
* Quickly trim down your videos, and find those perfect moments. OpenShot has many easy ways to cut your video.
* Using our video effects engine, remove the background from your video, invert the colors, adjust brightness, and more.
* Using our powerful animation framework, you can fade, slide, bounce, and animate anything in your video project.
* Visualize your audio files as waveforms, and even output the waveforms as part of your video.
* Adding titles to your video has never been easier. Use one of our templates, or make your own.
* Render beautiful 3D animated titles and effects, such as snow, lens flares, or flying text.
* Control the power of time, reversing, slowing down, and speeding up video. Use a preset or animate the playback speed and direction.
* We have designed OpenShot to be the easiest and friendliest video editor ever. Give it a try and see for yourself.
* Drag and drop video, audio, or images directly from your file manager into OpenShot. It's that easy to get started.
2. Blender – (Windows, Linux, Mac)
Blender is the free and open source 3D creation suite. It supports the entirety of the 3D pipeline—modeling, rigging, animation, simulation, rendering, compositing and motion tracking, even video editing and game creation.
Blender is a public project, made by hundreds of people from around the world; by studios and individual artists, professionals and hobbyists, scientists, students, VFX experts, animators, game artists, modders, and the list goes on.
Features:
* Cycles Render Engine – Cycles is Blender's built-in powerful unbiased path-tracer engine that offers stunning ultra-realistic rendering.
* Modeling, Sculpt, UV – Blender's comprehensive array of modeling tools make creating, transforming and editing your models a breeze.
* VFX – VFX professionals say: "Probably the best tracker in the market". Blender includes production ready camera and object tracking. Allowing you to import raw footage, track the footage, mask areas and see the camera movements live in your 3d scene. Eliminating the need to switch between programs.
* Animation & Rigging – Thanks to the high quality rigging and animation tools, Blender is being used for numerous short films, advertisements, TV series and feature films now.
* Story Art, drawing 2d in 3d – Really! Drawing directly in a 3D viewport makes a lot of sense. It opens unsurpassed workflow freedom for story-boarders and 2D artists.
* Blender has a flexible Python controlled interface. Layout, colors, size and even fonts can be adjusted. Use hundreds of add-ons by the community or create your own using Blender's accessible Python API.
3. Lightworks – (Windows, Linux, Mac)
For over 25 years Lightworks editor has been at the forefront of film editing, having been used on many of the finest films in cinema history: The Wolf of Wall Street, LA Confidential, Pulp Fiction, Heat, Road to Perdition, Hugo, The King's Speech and many more! Now with the release of Lightworks v14.0 we have created the complete video creative package so everyone can make video that stands out from the crowd. Whether you need to make video for social media, YouTube or for a 4K film project, Lightworks makes it all possible!
Features:
* Simple & intuitive User Interface
* Easy timeline editing & trimming
* Real time ready to use audio & video FX
* Access amazing royalty-free audio & video content
* Lo-Res Proxy workflows for 4K
* Export video for YouTube/Vimeo, SD/HD, up to 4K
4. Shotcut – (Windows, Linux, Mac)
Shotcut is a free, open source, cross-platform video editor for Windows, Mac and Linux. Major features include support for a wide range of formats; no import required meaning native timeline editing; Blackmagic Design support for input and preview monitoring; and resolution support to 4k.
Features:
* Supports hundreds of audio and video formats and codecs thanks to FFmpeg. No import required which means native editing, plus multi-format timelines, resolutions and frame-rates within a project. Frame accurate seeking supported for many video formats.
* Blackmagic Design SDI and HDMI for input and preview monitoring. Screen, webcam and audio capture. Network stream playback. Supports resolutions up to 4k and capture from SDI, HDMI, webcam, JACK & Pulse audio, IP stream, X11 screen and Windows DirectShow devices.
* Multiple dockable and undockable panels, including detailed media properties, recent files with search, playlist with thumbnail view, filter panel, history view, encoding panel, jobs queue, and melted server and playlist. Also supports drag-n-drop of assets from file manager.
The video editor is intended for editing video files and creating videos of any complexity involving various visual and audio effects. The program offers rich functionality and yet has a simple and intuitive interface, allowing you to create videos with a bare minimum of efforts.
Features:
* VSDC Free Video Editor allows for creating different shaped masks for hiding, blurring or highlighting certain elements in your video. You can use it to apply special effects inside or outside the masked area. One of the most common reasons for masking are to blur a face to protect the identity or remove unwanted marks.
* You can apply various visual and audio effects to your videos to achieve the necessary result. Since the number of available visual effect is very high, they are split into five categories for ease of navigation: color correction, object transformation, object filters, transition effects and special fx.
* To prepare a video for Facebook, YouTube, Instagram, Twitter and Vimeo without any problems, VSDC Free Video Editor offers you special export profiles which significantly reduce the stress of selecting a suitable format and meeting all the requirements.